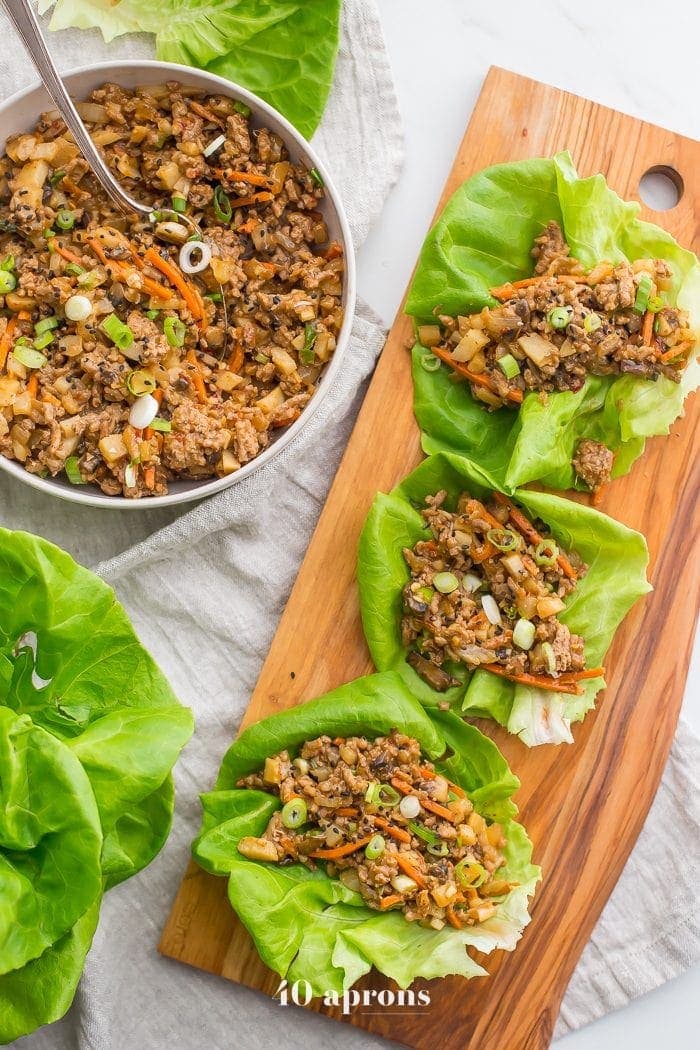 Whole30 Lettuce Wraps (PF Changs Lettuce Wraps Recipe)
A healthy lettuce wraps recipe, inspired by the PF Changs recipe but totally Whole30 compliant and paleo. Made with either pork or chicken, they're a great healthy Asian dinner recipe. 
INGREDIENTS 
1 tablespoon olive oil
1/2 yellow onion diced
1 cup baby bella mushrooms minced
3 cloves garlic minced
1 pound ground pork or ground chicken
1/2 cup shredded carrots
salt and freshly ground black pepper
1/4 cup coconut aminos
2 teaspoons sesame oil
1 teaspoon rice wine vinegar
1 tablespoon almond butter
2 teaspoons freshly grated ginger
1 tablespoon  hot sauce sriracha or sambal oelek
8- ounce can water chestnuts diced
3 green onions thinly sliced, 1 tablespoon reserved
1 head Bibb lettuce leaves gently removed from stem
Sauce:
1/4 cup coconut aminos
1 1/2 teaspoons sesame oil
1 teaspoon rice wine vinegar
Compliant hot sauce to taste
1 tablespoon green onions from above ingredients
Salt
Garnishes
sesame seeds
thinly sliced green onions
INSTRUCTIONS
In a large skillet set over medium heat, heat olive oil. When the oil is hot, add onion and cook for about 3 minutes or until beginning to soften, then add mushrooms and cook 3 more minutes, or until onion is translucent and mushrooms are softening. Add garlic and cook just until fragrant, about 30 seconds, stirring constantly.
Add ground pork and cook until browned, crumbling with a wooden spoon or spatula. Add carrots and stir until starting to soften, about 3 minutes.
In a small bowl, combine 1/4 cup coconut aminos, 2 teaspoons sesame oil, 1 teaspoon rice wine vinegar, almond butter, ginger, and hot sauce. Whisk until smooth then pour over meat mixture. Stir until combined, then add the chestnuts and green onions. Cook for 3-4 minutes then remove from the heat. Season with salt and pepper to taste.
Make sauce: whisk together all sauce ingredients in a small bowl.
When ready to serve, spoon 3-4 tablespoons of the mixture into the center of a lettuce leaf and serve with sauce. Garnish with green onions and sesame seeds, if desired.
Reference: https://40aprons.com/whole30-lettuce-wraps-pf-changs-recipe/